Beatrice Alemagna
Содержание:
Beatrice Alemagna, who grew up in Bologna and now lives in Paris, has created about thirty books which have been published all around the world. Her long list of accolades include the Premio Andersen Award, a Bologna Ragazzi Mention, five White Ravens Awards and three Baobab Prizes for the most innovative books for children.
In this post, Beatrice talks about the creation of her stunning new picturebook, 'Le Merveilleux Dodu-Velu-Petit' (The Wonderful Fluffy Little Squishy). She also shares some fascinating insights into her approach to storytelling and picturebook making.
Visit Beatrice Alemagna's website
Beatrice: I'm self-taught. I never attended a school of illustration, and everything I've learnt has been through making children's books. I learnt by experimenting on my own, at my table.
I've been making books for over fifteen years and each time feels like the first time.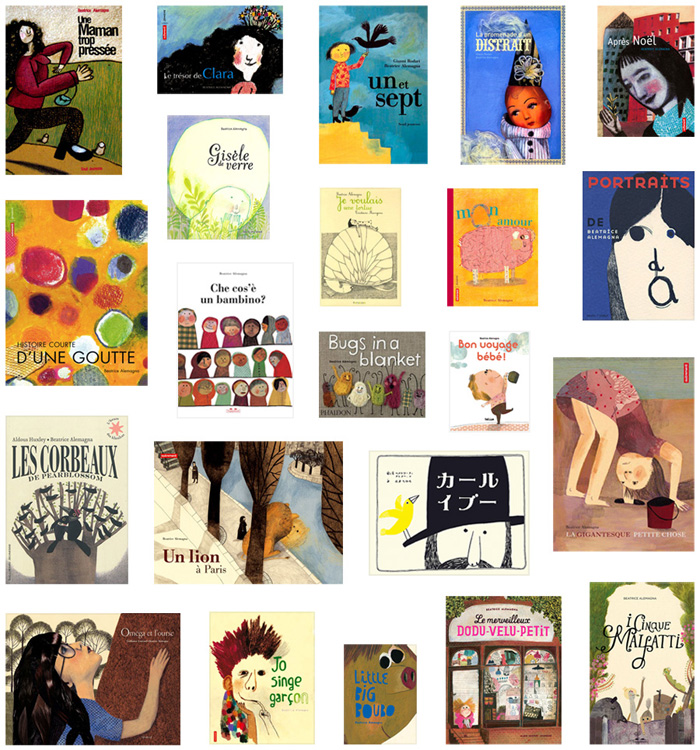 'Le Merveilleux Dodu-Velu-Petit' (The Wonderful Fluffy Little Squishy) is a book that required six years of reflection and two years of solid work.
Since I was little, I've been deeply fascinated by an episode of Pippi Longstocking in which she decided to look for 'Spunk', a word she invented and something that doesn't exist at that time. It's always stayed with me – the idea that in the end, you always find those things that don't exist. And I convinced myself that this would require a long search in the shops.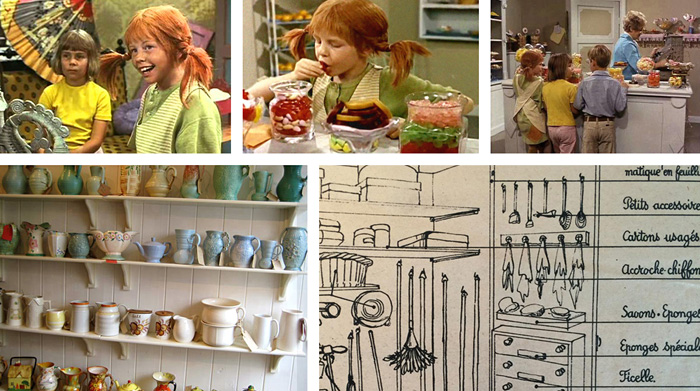 This book is partly a homage to Pippi and the fascination I experienced when I was little: entering a shop full of things that were waiting to be discovered.
The most difficult thing that I'd wanted to convey from the beginning was a sense of lightness.
Over the last few years, I've started to take lightness very seriously – not lightly, as I did before. For me, lightness has become the place where serious things come together.
Upon reflection, I understood that lightness might elude us because of its subtlety. It's not banal, and can in fact become the peak of tension in seriousness. The light discovery of something unique (like in Eddie's adventure) summarises the idea of childhood that I wanted to convey in this book. Childhood as a moment of glory.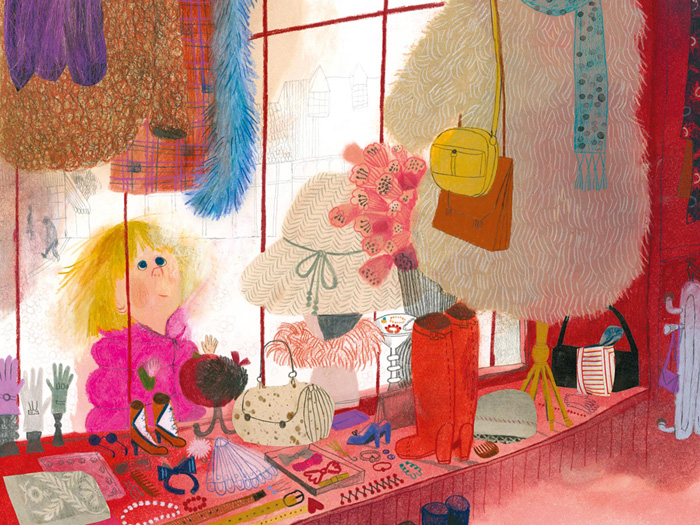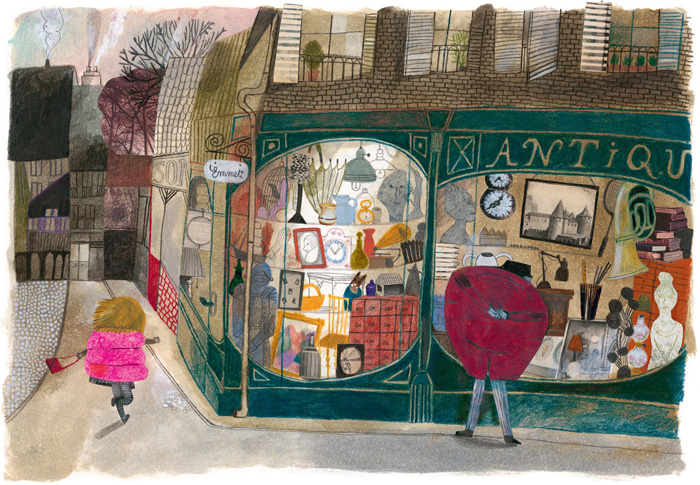 The whole book stems from the character of Dodu. One day, out of nowhere, I drew this kind of electrified dog and I instantly felt the need to tell its story.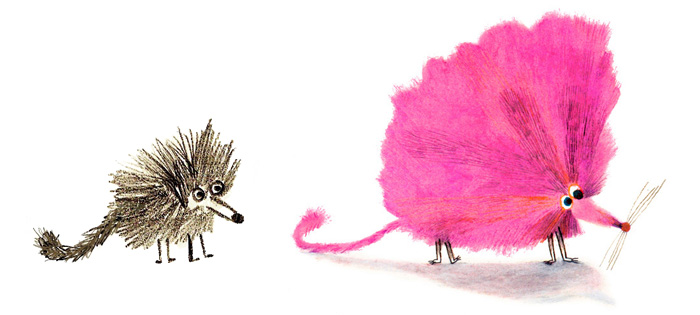 Often the characters themselves call out to us, and for me it's nearly always like this. At first this book was destined for Japanese readers. I started my very first drawing six or seven years ago. But the story was very different back then. The main character and the search in the shops were already there, but the little girl didn't have a character yet, and the adventures Eddie lives through today didn't exist.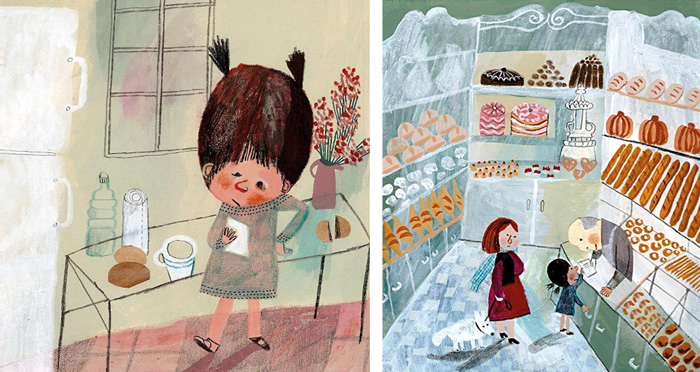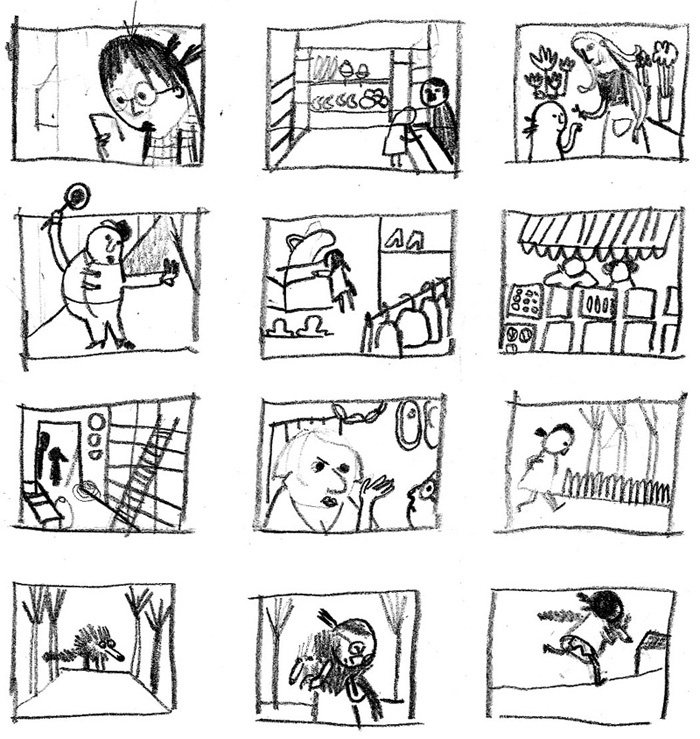 I spent years taking photos of the most beautiful shop windows during my trips around the world.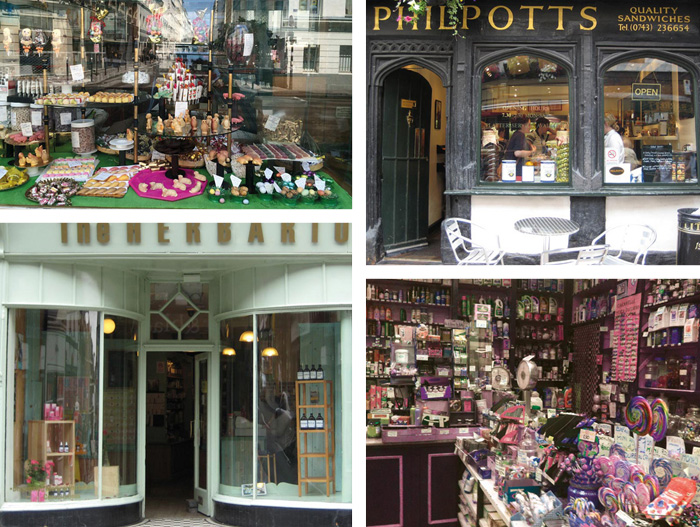 My writing and all this research were left in my drawer for nearly six years: the necessary time for it to mature and come to life.
I wrote and rewrote my story at least ten times, asking myself how I could actually manage to tell what I wanted to through an adventure. A simple and classic adventure, in literary terms. I'd never written a real adventure before and it turned out to be a hard task.
With this in mind, 'Le Merveilleux Dodu-Velu-Petit' is very new for me.
But inside lie the core themes of nearly all of my books: travel, departure, the search for something, and accepting oneself. I think, deep down, I always want to tell the same story: a fragile being that finds great strength within himself.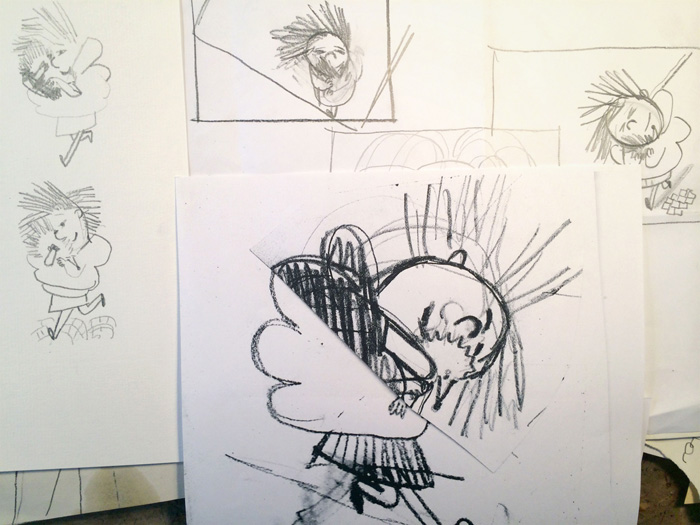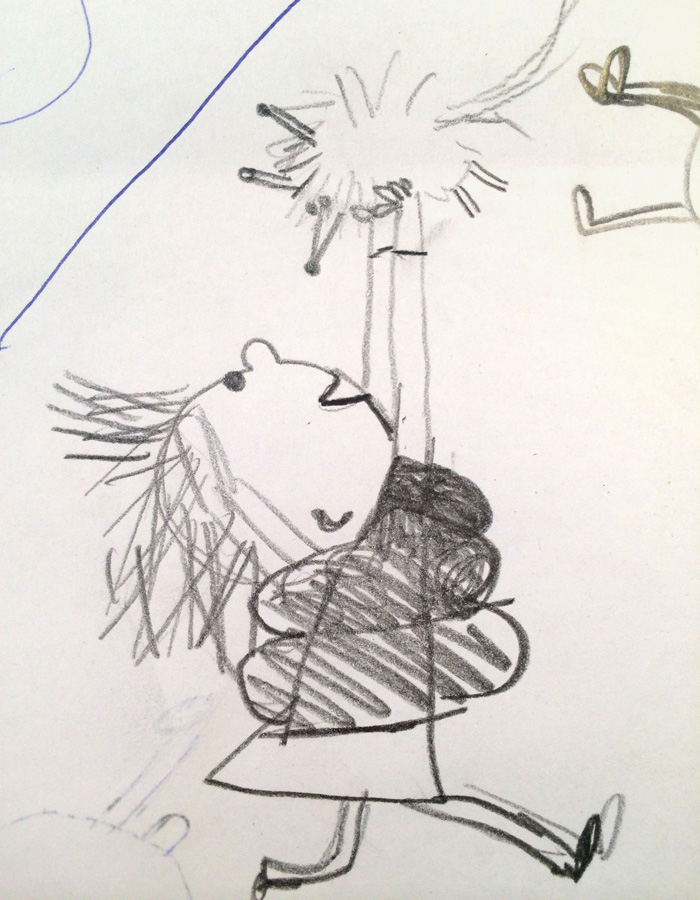 My drawings required dozens of attempts as well. When I draw, I'm always looking for something. I keep going until I find something that tells me: yes, you're on the right track – this couldn't be any other way.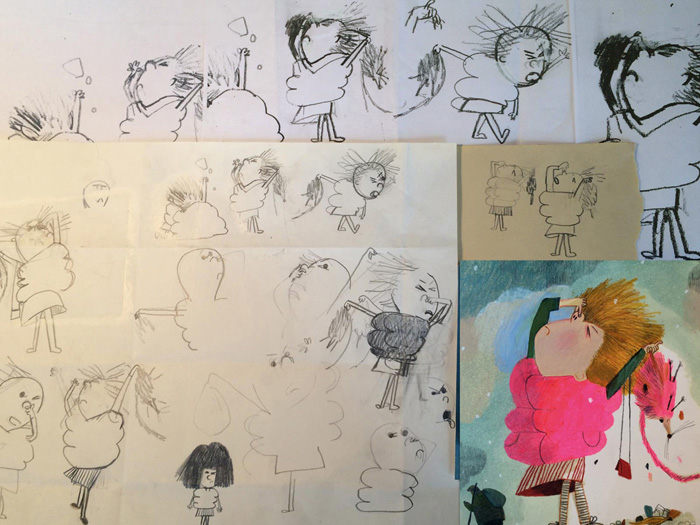 In order to tell this story with a 'light language', I wanted some of the main factors of fragility to play a part. Children are extremely fragile and Dodu is an abandoned, vulnerable being.
I wanted to talk about care, about every form of attention, research, and love (through the love for her mum, the little girl discovers the love for herself and her friends, who help her and advise her, offering her care and love).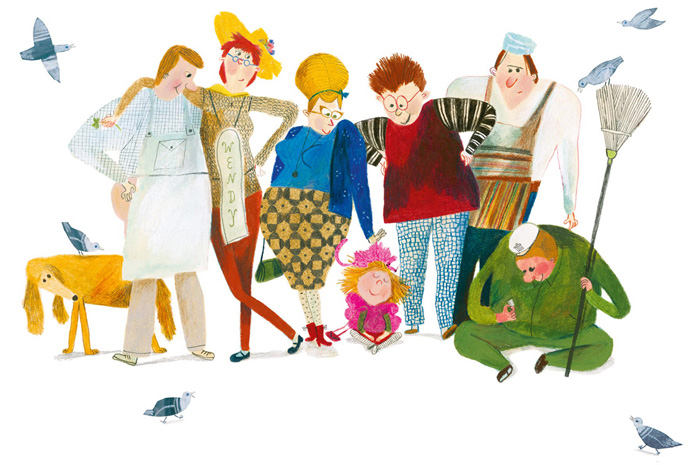 I also tried to convey lightness in a visual way: snow, birds, steaming tea, gushing water, ruffled hair, Eddie running.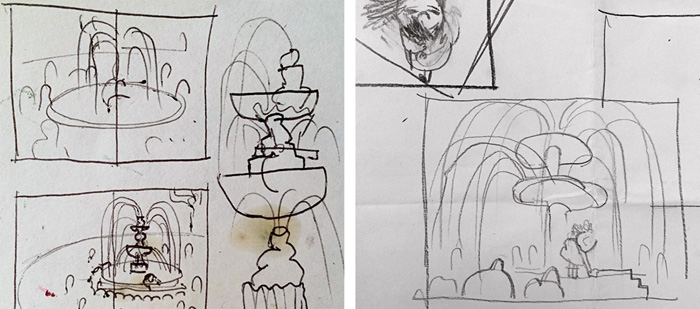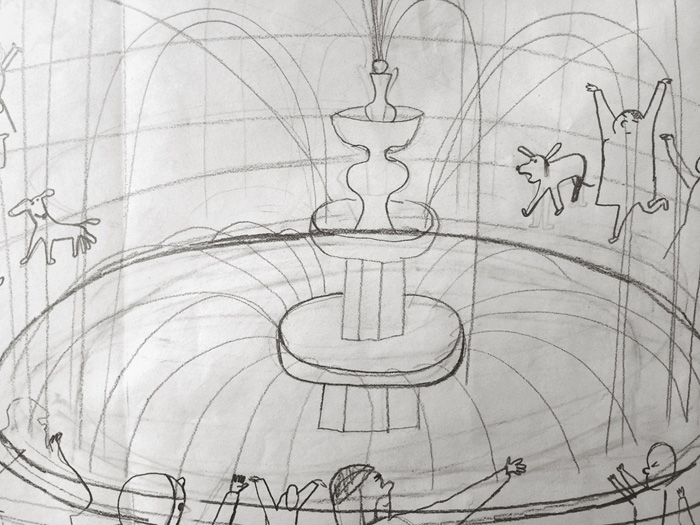 I wanted all this lightness to tell the story of the immense and fundamental power of fantasy. And the character of Dodu, with his bold colours and peculiar face, symbolises exactly this power.
I grew up in Italy with the popular traditions of Gianni Rodari, Luigi Malerba, Collodi, De Amicis… Children have always been connected, as in my childhood, with society and its problems. And so are all the characters in my books: beings in need.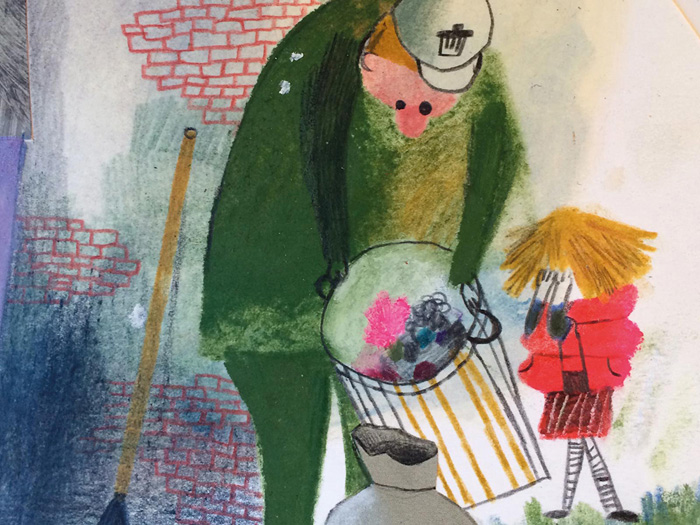 Thanks to my love of foreign cultures (for example, English nonsense, Japanese animism, German surrealism, and the magic of Russian and Scandinavian fairy tales), I always try to explore new worlds and new visual languages.
It's absolutely impossible to identify myself with something precise, because I want to explore, change and evolve – even at the risk of letting my readers down.
My books always emerge from a million doubts, reflections and redrafts.
Nothing is clear to me while I'm making a book, but everything flows naturally in my head. The hardest thing is trying to reach it.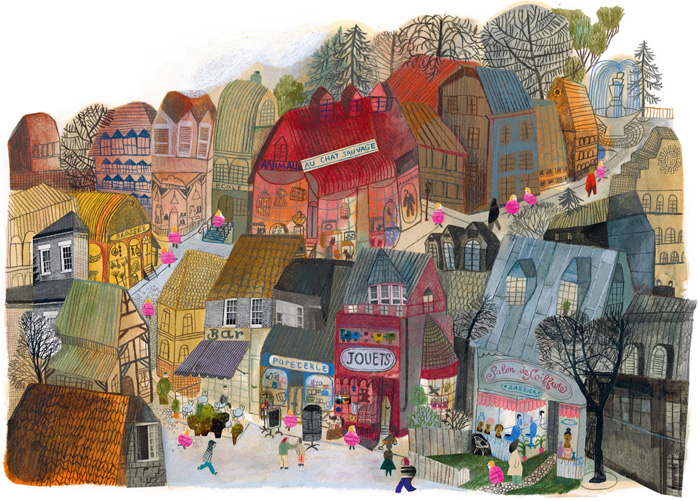 I would like to say that I write books in the same way as I see or think. But this isn't true. While drawing is perfectly natural to me, creating a book with a narrative pace to be respected is a laborious and sometimes painful process. But at the end of the book, the suffering always makes way for immense happiness.
I love mixtures and hybrids. I love avoiding walls or barriers. I love not worrying about age limits, time limits, precise aesthetic rules, pre-established conventions…
All of this comes from a huge trust in myself. I always work with something from within, which is strong and expresses itself clearly and intensely.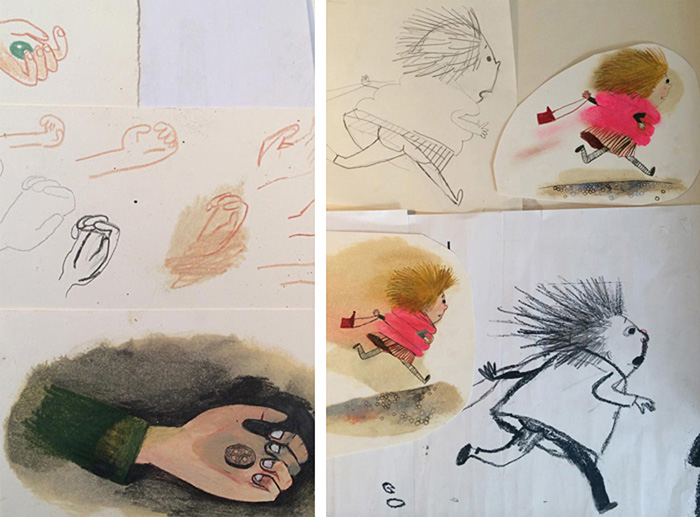 Lastly, I love paradoxes: my books often have big formats (I don't like feeling constrained by the page), but they often talk about small things. I love discovering minuscule things in nature, in people's faces, in the emotions I feel. Small things, like fragile things, are what move me the most.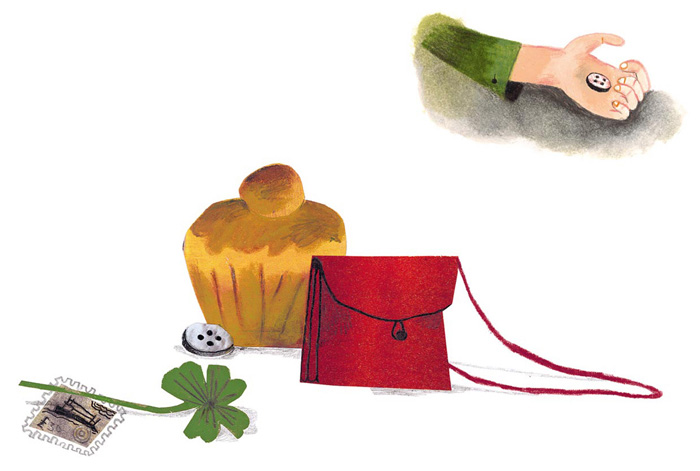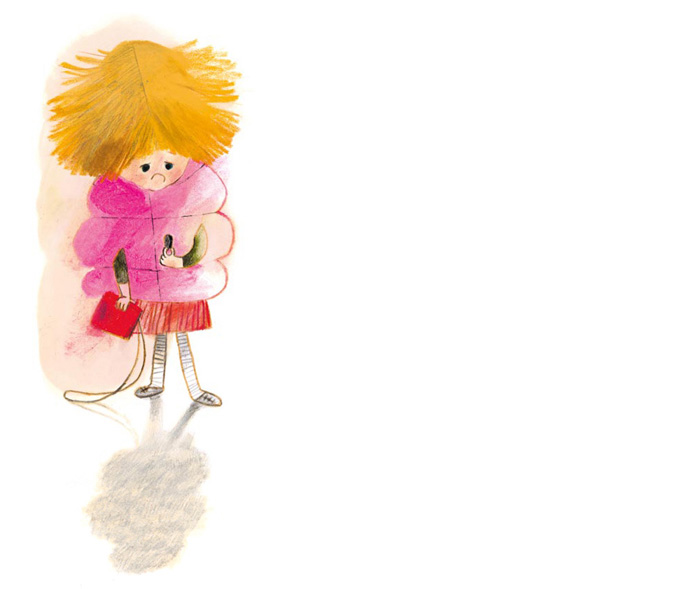 Illustrations © Beatrice Alemagna. Trailer by Emmanuel Feliu. Post translated by Gengo and edited by dPICTUS.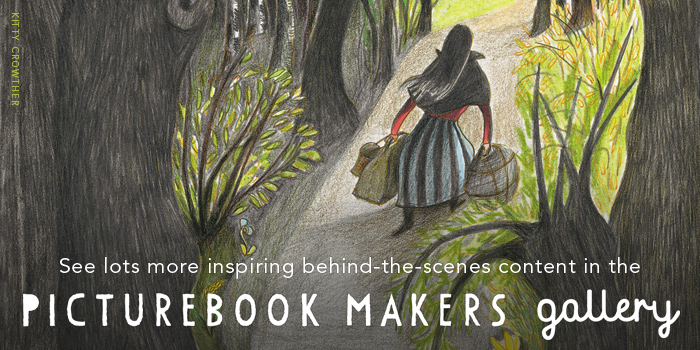 Источник: http://blog.picturebookmakers.com/post/118767818346/beatrice-alemagna
[Lucca C&G] Beatrice Alemagna, Illustr-Autrice
Опубликовано: 14.02.2018 | Автор: pracaran
Рейтинг статьи: 5

Ещё
Всего 5 комментариев.
10.02.2018 Георгий:
Книг у Beatrice Alemagna множество вышло. Но меня заинтересовали вот эти, про жучков и мошек, явно набитые войлоком по фону.
10.02.2018 Никодим:
Beatrice Alemagna is on Facebook. To connect with Beatrice, sign up for Facebook today.
07.03.2018 nonboyvas:
Название Gisele de verre Автор Beatrice Alemagna Иллюстратор Beatrice Alemagna Год издания 2002 Издательство Seuil jeunesse.
28.02.2018 Ростислав:
Beatrice Alemagna, who grew up in Bologna and now lives in Paris, has created about thirty books which have been published all around the world.
02.04.2018 Мария:
Но как-то я все же выяснила, что иллюстратор вполне европейский и зовут ее Beatrice Alemagna.